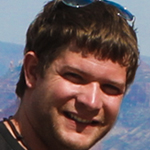 What is your equipment list for shooting the meetings?
Canon 7D, Canon L-Series 24-105 f.4 lens, 50mm Prime f.14, Speedlight EX-430 Flash
What settings work best for the low light of the theater?
Typically I have to compensate for the low light by boosting my ISO up to 1600, which is surprisingly clean for the most part. When I am shooting with my flash, I usually try to bounce it off a wall to soften it up and bring my ISO back down to 800.
What is the one task that use to process the photos? (photoshop / lightroom?)
I use Lightroom and typically add a simply S-Curve adjustment as I shoot with a superflat color profile in order to get as much detail as possible in the image before processing with some contrast and a noise reduction.
THANKS FOR THE GREAT PHOTOS FROM DMALA BRANT.
You can see the photos on our Google+ page – and maybe tag yourself there.    If you need to contact Brant for photography, you can find him on LinkedIn or at our monthly meetings.